The Ohio Pathways Rotary Club is proud to sponsor four students for the Guatemala Rise Youth Development Scholarships.
Community: Xenacoj
Grade: 6th
Birthday: 11/18/2007
Favorite Subject: Math
Dream: Accountant
Biography: My name is Jessica. I study at school each morning. I am 12 years old. I enjoy all of the foods that my mom makes and I always eat it all. The sport that I like best is soccer. I play midfield and when one of my classmates doesn't arrive, I play upfront. We use our gym uniform. Sometimes when we go out to recess with other grades, we can play against them. I like to attend school and to be able to play soccer with my friends. My older sister is studying in 9th grade. My older brother was no longer able to study because we didn't have the money for him to continue. My brother works in a factory. He helps my mom with the rent because my mom cannot support us alone. For this reason, I go to work with my aunt in the afternoons. She talked with my mom so that I would be allowed to take care of her son, my cousin. She pays me 40 quetzals ($5.24 USD) per week. I give it to my mom for food or anything I need for school. I work because my mother does not earn enough to be able to buy all that we need. My mother has told me that I will only be able to study until 6th grade because she does not earn enough making blouses. It is not enough to cover all of the necessities. My father died four years ago. My father took out a loan that he did not finish repaying. Now, my mother finds herself paying this debt with very little income. For this reason, I will not be able to continue with my studies. My mother said that with a scholarship from CoEd she would do everything possible to allow me to continue studying.
Community: Xenacoj
Grade: 6th
Birthday: 02/23/2008
Favorite Subject: Social Studies
Dream: Writer
Biography: My name is Claudia. I am dedicated to cleaning the house and doing my homework, and I make belts for children. With the money that they pay me, I give one part to my mother for my studies. Sometimes I take care of my little brother, help my mom to fix her threads, and weave so that she can sell. My brother sweeps, helps around the house, and sometimes goes to look for materials to make chairs. But just the same, we don't have much money to do what we would like. My mom and my older sister make textiles. A part of the money that they earn is for my mother and the other part is for my sister's studies. My father and mother are separated. My father does not help take care of the house. He does not give money to my mother for our studies. He no longer comes to the house. My siblings and I only live with my mom. Since then, only my mother watches over us so that we can continue forward. One of my little brothers died at 7 months old because he got the chickenpox. I want to continue studying but my mother does not earn enough money and for this reason, I am not sure that I will be able to continue with my studies. I would like to continue studying to help my siblings. Sometimes I don't turn in homework because there are no libraries close to my house and my mother does not have money so that I can buy my materials because she is also supporting my siblings' studies. I want a scholarship from CoEd so that I can complete my dream of being a great writer.
More About Evelyn
Community: Xenacoj
Grade: 6th
Birthday: 11/30/2006
Favorite Subject: Communication and Language
Dream: Nurse
Biography: My name is Evelyn. I am 13 years old. I want to be a nurse when I grow up. My father has told me that I will only study until 6th grade because he does not have enough money to give us for studies because he is sick. He suffers from big headaches and for this reason, sometimes doesn't work. My mother works very hard so that I can continue studying. She does laundry beginning at 5AM and cleans neighbors' houses. She leaves the house to look for who needs work so that we never go without food and so that we can continue to study. When she is not able to find work, she weaves fabrics and sews blouses, and then sells them at the market in town. I like to help my mother so I work in a factory. For part-time, they pay me 60 quetzales ($7.86 USD) per week. The other half of each day, I study in school. At night, I do my homework. I give my mother the money that I earn so that she can save it. When I ask for something for school, she gives me the money I earned to buy it. My older siblings work so that they can continue studying because my mother and father do not earn enough to support my siblings and me. I feel very supported by my mom because she says that I may continue my studies just like my siblings. She will help us in whatever way she can, but sometimes I see that she is tired, but she always gets up early to go to work and move us forward. If I had a scholarship from CoEd, I would take advantage and would continue my studies until graduation.
More About Sonia
Community: Santa Maria Cauque
Grade: 6th
Birthday: 08/16/2007
Favorite Subject: Art
Dream: Accountant
Biography: My name is Sonia and I am 13 years old. I really like playing ball with my friends. I like cats and I have a kitten named Misha. She just had 3 kittens but I have not named them yet. My favorite food is hilachas and eating ice cream. I really like studying and my dream is to be an expert accountant. Sometimes I tell myself that I'm very pretty, that I have very beautiful hair. My parents work in agriculture. They rent 6 plots of land and within a year they pay Q.500 for each lot of land. They harvest green beans, cilantro, and parsley. My mother sells it in the terminal in the capital. She goes there on market days to be able to sell more. My dad is in charge of harvesting what my mom sells. We support them by washing the vegetables they cut and we get them ready so that my mom can go and sell them. I have 8 brothers. I am the second youngest. Some of my older brothers have been able to study but have had to work to be able to study. They have studied up to 9th grade. My parents have told me that they can only give me studies until 6th grade and then I will have to help them in the field so that my little sister can finish studying elementary school. If I wanted to continue my studies I would have to work in the field or in a factory, so I want to have the opportunity to have the COED support and continue my studies, so I could graduate and help my little sister so that she can also fulfill her dreams.
1 Sponsor a student today.
2 Help your new friend rise.
Thanks to you, your student's life will begin to change as they benefit from comprehensive support services in the Rise Program:
a full academic scholarship
psychologists, social workers, and mentors
workshops on topics like job skills and leadership
visits to businesses and universities
opportunities to serve in his or her community as a young leader
We'll keep you regularly updated on your student's progress, and you will also have the opportunity to exchange letters and photos with your student and even visit them in Guatemala! You'll experience the joy and pride of helping your student grow as you become part of each other's stories.
Guatemala's Western Highlands exhibit one of the most extreme combinations of systemic poverty, illiteracy, and inequality in the hemisphere. 3 out of 4 people live in poverty, and 1 in 3 cannot read or write.
Students face overwhelming obstacles to stay in school:
lack of financial resources
pressure to marry early
alcoholism or abuse in their homes
gang culture
lack of familial support
belief that education is not worth investing in
As a result, 95% of poor, rural students never graduate from high school.
You can help a student beat the odds by becoming a sponsor today.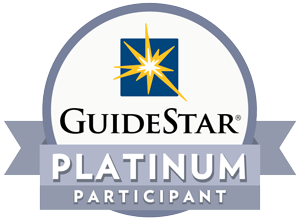 Guidestar
Cooperative for Education receives Guidestar's Platinum Seal of Transparency for our dedication to testing and proving the impact of your donations.